You dream of writing a book. In fact, you've been wanting to publish a book for years. Yet there is still no book.
But you still have an impactful message burning inside you–one that could change people's lives and also better position you as the expert you are in your industry.
So, you're considering hiring a ghostwriter.
The idea of having someone else write your book is intriguing because you could finally get it done.
You'd simply get an email one day saying the draft is complete.
But this is also a terrifying prospect because YOU aren't the one writing it. Who knows how the end result will turn out and whether it would be worth the enormous fees?
This is a huge decision–one you shouldn't take lightly.
I know firsthand. Long before I ever dreamed of owning a writing and publishing company, I hired a ghostwriter, and the experience was awful.
I ended up with a book that didn't sound like me AT ALL and I wasted tons of money.
Not only that, it added an additional 18 months to the writing process, and in the end, I ended up writing the book myself.
So, to help you avoid the same mistake and hire a ghostwriter who actually provides a book you're proud of, I'm about to reveal everything I've learned from years of experience in the publishing industry.
What You Need to Know Before Looking for a Professional Ghostwriter
Here's the problem with most traditional ghostwriting and why projects often fail:
Traditional ghostwriting tends to produce content without context. 
This can make it hard to capture the author's voice, which then removes the personal connection.
This is a very common problem in the ghostwriting world and is the reason most clients are not happy when their book is finally sent for review.
By then, they've already invested hundreds of hours and thousands of dollars in the endeavor, and it is hard to turn back.
The ghostwriter I hired to write my book years ago failed because they weren't able to capture my voice.
One way you can avoid this all-too-common pitfall is by opting for what I call enhanced ghostwriting.
With enhanced ghostwriting, the ghostwriting process is elevated because the writer helps create the context for the content.
What makes the enhanced ghostwriting process so simple and effective is that it is written in your voice, emphasizes your passion, and includes your experiences and examples to bring it to life.
This helps make it easier to capture the author's voice and message.
The process generally includes five steps:
Story: People may initially come to you or your book because of your knowledge or experience, but they will only read your book if you have a compelling story to share. For each chapter, you need to begin with a story. This is the most effective way to captivate the audience from the start.
Open Loop: When you're writing an open loop, there is a need for an extra story to strengthen your argument and make the conclusion more compelling. Consider a speaking engagement. If you're in front of an audience and they've been hanging on your every word, you won't want to let them down now with a weak conclusion. Instead of telling the complete story of failure to success, consider stopping at the time of greatest uncertainty and fear. This is known as an "open loop." We don't culminate the story, because the brain wants to know the end of the story.
Content: You want to start with a brilliant story that flows flawlessly into the point or arguments you want to make for that chapter. Because of the way our minds work, the reader will be motivated to read on to find out how the narrative ends. This way you can convey the lessons you learned along the way— thereby creating your content. Readers are now drawn in and motivated to read more as they create their own conclusions and learn from your story.
Close the Loop: Finally, you want to end with a bang. Here you conclude the story by closing the loop. Every chapter is a microcosm of your entire book, which is why every chapter must captivate, fascinate, and provide valuable content and information to the readers. This means that the conclusion ought to be memorable and powerful.
Conclude the chapter and give the next steps: 
These three components are straightforward yet crucial for writing a bestseller. When you execute this process for each chapter, you'll have a book that will be hard to put down.
The process is extremely powerful, despite its simplicity.
That's why I recommend only pursuing a ghostwriter who follows an enhanced ghostwriting™ process.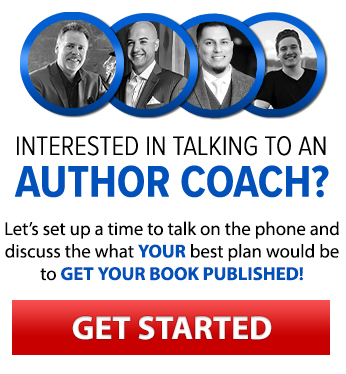 How to Find a Ghostwriter for a Book: 6 Places to Look
Now that we've covered the basics, you might be wondering how you can find a ghostwriter. Here are a few places to look for book ghostwriters:
1. Freelance marketplaces like Upwork and Fiverr
Upwork is one of the most popular freelancing sites online, and it can help you find a ghostwriter for your work.
You can either post a project and have writers make proposals to complete the work for you, or you can search for specialized freelance ghostwriters and choose the best match for your assignment.
The benefits of hiring a ghostwriter on Upwork include the possibility of finding a writer with expertise in your specific business and finding authors for cheap.
The main disadvantage of using Upwork is that you usually compromise on quality. You cannot guarantee that the writing will be high-quality, and you will also have to spend time vetting your ghostwriter and then handling the writing assignment yourself. You can also try to find a writer on papertyper.net. This essay platform has many professional writers who specialize in various types of written works.
2. Google and LinkedIn
Another way to create a list of ghostwriter candidates is to search Google and LinkedIn. However, each of these platforms has limitations. Sifting through profiles on LinkedIn takes a significant amount of time and work.
Thousands of results show when you search for "book ghostwriter." Searching through them one by one is a time-consuming procedure.
You will need to filter through a large number of search results while using Google and LinkedIn.
The first few pages will be dominated by freelancing markets and ghostwriting agencies, so you'll have to delve deep to find individual ghostwriters' websites. And it's difficult to discern who is genuine.
3. Ghostwriting Agencies
There are several ghostwriter agencies out there, but the majority of them leave clients unhappy.
The issue is that they only make money when they introduce you to a writer.
They are not compensated based on whether the pairing is successful. As a result, people are encouraged to establish a relationship as soon as possible, regardless of how it turns out.
If you decide to use a ghostwriting service, go with one that has a proven track record of success. They are the ones who have demonstrated that they care for their reputation and the quality of their work.
4. Professional Referrals
Ask people you know if they have any recommendations for help with your project. You may find that people are willing to refer you to someone they know who can help you find a good ghostwriter.
It can be helpful to find someone who has worked with someone in your network. That way, you'll know a bit about their experience working with that person.
There are also professional organizations and associations related to your industry that can connect you with members who may be able to recommend someone.
How to Hire a Ghostwriter (Without Regrets): 3 Steps I Learned the Hard Way
When you're looking to work with a ghostwriter, be sure to ask them about their experience and what they have written.
Make sure they understand your project and your goals for it so that they can help you achieve your desired outcomes. Also, make sure you check reviews and testimonials.
You want someone reputable and who has the evidence to back it up. You have to be incredibly careful when hiring a ghostwriter.
Quality ghostwriters can cost upwards of six figures, and while prices range from one thousand to over a hundred thousand for a ghostwritten book, you generally get what you pay for.
Cheap ghostwriters and ghostwriting agencies tend to submit work that is poorly written and unusable. There is a reason people are willing to pay upwards of six figures for a quality book.
Another important thing to look out for when hiring a ghostwriter or a ghostwriting agency is that they have written in your genre and have experience working with writers in your field or industry.
Here is my process for finding a great ghostwriter based on my years of experience. This three-step process will ensure your ghostwriter produces a book you'll be proud of:
Step 1: The Foundation
The foundation is, in many respects, where most authors make their first error. Most of the time, they have been thinking about writing a book for many years before they're finally ready to start.
It's usually the case that the longer you delay a project, the more likely you are to lose faith in it. It's easy to doubt your industry knowledge, how to put what you know into a book, or even whether you should write a book at all.
All of this is a part of the process. It's natural to doubt yourself, but if you truly believe in yourself and what you have to give, you should answer those questions so you can begin writing your book on a firm foundation.
The next element of that foundation to consider is your audience. Is there a potential audience for your story or what you wish to share? When a new customer begins working with Best Seller Publishing, we schedule a call with one of our project managers.
We have each customer complete a few forms before that call. One of those forms is an author market questionnaire.
We want to know who their target audience is, what their fears are, what their hopes and desires are, and how they intend to help them. We also ask our clients how they might fix their target audience's most pressing issue.
So, during this conversation, our project manager will use these forms to facilitate a brainstorming session with the new customer to assist them in laying the groundwork.
The foundation is where we design their book, including subtitles and a table of contents.
A business owner's book may serve as the basis for their company for decades, so it's very critical that they evaluate who they're writing for and whom they want to attract.
Step 2: Creation
It's time to start writing that book.
It's easy for the individual working with the ghostwriter to lose their own voice, something we don't want to happen.
To avoid this, we ask our writers to record information for each chapter so that they may create their story using a few key themes.
Once we receive a transcript of all of the recordings for each chapter that includes our client's voice, our ghostwriter will spend four to six weeks shaping that raw material into a beautiful book.
It will have short, snappy phrases; paragraphs; bullet points with directions; and crisp conclusions, among other things.
Typically, content creation is the most difficult aspect of the writing process.
Obviously, you are an expert in your field and have a lot to teach and share, which is why a solid structure is required to persuade the reader to continue reading and learning while you keep them entertained.
This enhanced ghostwriting process will allow the content to be created with a cohesive theme and voice, allowing your book to shine.
Writing a book can be a difficult task, but when done well, the rewards are enormous for authors.
Step 3: Execution
With the enhanced ghostwriting process, every chapter must captivate, fascinate, and provide valuable substance and information to the readers. Every chapter also needs to conclude with something memorable and powerful.
While a book is an excellent tool for engaging readers, it is a one-sided dialogue. The reader is reading your words, but there is no way for you to interact with them. That's why I advise all of our writers to include additional information and next steps for readers to take in order to move them from your book to your website and email list, where you can start actively connecting with them.
Every stage, from creating an overview to designing the final book cover, is critical.
A Complete Process for Writing Your Dream Book
The process of publishing a book can be daunting. Most authors who have successfully published a book know that it is a combination of many different skills and factors that come together to make their book a success.
If you've previously struggled to finish your book or just want to move fast, we are a perfect choice, and our happy customers are proof of that.
We will help you write that book you have been wanting to write, publish it, and market it successfully!
Our Publish. Promote. Profit. program will help you create your own professional, best-selling book (guaranteed) and then teach you how to use that book to grow your income and impact via speaking engagements, free PR and media, and cutting-edge lead generation strategies.
Our book Publish. Promote. Profit. was not only the number #1 business book on Amazon but also became a best seller on the USA Today and Wall Street Journal Best Sellers Lists!
The tactics and techniques outlined in this book have resulted in over 1,000 Amazon, Wall Street Journal, and USA Today best-selling authors.
Don't put off your dream of publishing any longer. It's time to write that best-selling book.
Get your own copy of Publish. Promote. Profit. here!