New writers wanting to know how to get a book published often follow wrong information.
I'm guessing you have an idea in your head: something you want to put out there for the whole world to read.
But you also don't want to pour blood, sweat, and tears into a book that never sees the light of day.
Or even worse: getting through the struggle of publication only to sell a handful of copies.
Sadly, this scenario is 100% possible because the average non-fiction book only sells around 250 copies in its lifetime.
No struggling writer wants to toil for so little benefit.
That's why I've compiled what I've learned about how to get a book published all into one handy guide.
Read on if you want to learn publication secrets while avoiding mistakes that cost new writers.
Below is the step-by-step process on how to get a book published:
Getting a Book Published: What Are Your Options?
There isn't one track that every potential writer must follow. Most authors will use one of three paths.
Traditional Publishing
This is the route most first-time authors daydream about.
With traditional publishing, a publisher helps you create a physical book to display prettily at bookstores around the country.
Of course, this process is complex and time-consuming, requiring an involved step-by-step process (which this article describes in detail).
In traditional publishing, the publishing house will not market your book for you.
Therefore, traditional publishing may not be your route if you already have a large platform. You end up doing most of the work yet must share the profits with a company.
How Much Does It Cost to Get a Book Published?
With traditional publishing, it is at no cost to you. The publishing house takes on the upfront cost and risk of publishing your book. However, that means they also acquire a more significant cut of the profits.
Self-Publishing
This is the most straightforward option since you are handling everything yourself. You are your own editor and graphic designer. Of course, this means you do not have any third-party interference, nor do you have to split profits with anyone.
How Much Does It Cost to Get a Book Published?
Self-publishing can range anywhere from $0 up to $5,000. The average is around $1,000 – 2,000. The wide range depends on how much work you want to outsource. Hiring an editor or graphic designer will cost you, and you must pay for those services yourself.
Hybrid Publishing
Hybrid publishing involves outsourcing all aspects of publishing to a third party who takes on the work of writing and marketing the book. This differs from traditional publishing in that you get more profits.
We will discuss this option more in-depth at the end of the article.
How Much Does It Cost to Get a Book Published?
This one costs the most: around tens of thousands of dollars. The price tag is because you're paying someone else to do all the heavy lifting.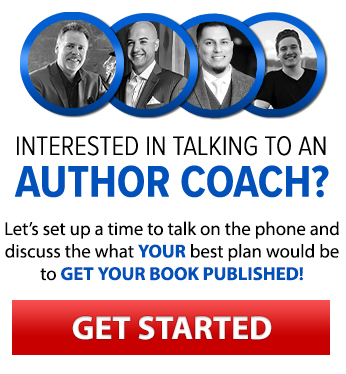 How to Get a Book Published for the First Time: 9 Steps
1. Identify Who Your Book Is For
One question you must be able to answer confidently is:
Who is going to read your book?
Your job as a writer is to ensure your book speaks directly to your ideal client.
Your ideal client may be different ⁠— more niche ⁠— than what appeals to the general public. Unfortunately, traditional agents and publishers tend to choose books with mass appeal.
But don't let that deter you. Prioritize appealing to your target audience, and you will make money.
To determine your target audience, you can ask yourself questions based on whether you are writing a non-fiction or fiction book.
Non-fiction Book
What genre is your book? Popular genres = large readerships. Some common ones are:
Autobiographies and memoirs
Self-help and personal development
Religion and spirituality
What are your audience's fears, worries, and concerns?
What are their aspirations and desires?
How do you want to help your audience?
How can you solve your audience's most significant pain point?
Fiction Book
What genre is your book? Some common ones are:
Romance
Mystery and thriller
Fantasy
Science fiction
Children's fiction
Adventure
What is the persona of someone interested in my book?
Are there similar plot lines already oversaturating my niche?
Does my chosen genre match the plot, or do the themes fit elsewhere?

For instance, do you want to write a fantasy epic but plan on writing a book with less than 40,000 words?
2. Write and Edit Your Book. Then, Write and Edit Some More
This is where new writers make their first mistake.
After just one or two drafts, they think it is complete enough to start submitting to literary agents.
Unfortunately, agents (and publishers) will think otherwise. To ensure your manuscript is polished and professional, consider seeking help from services that specialize in professional writing, which can easily 'write my paper'. Such services can provide valuable assistance in editing, proofreading, or even guiding the structure of your manuscript, ensuring it meets the high standards expected in the publishing world.
Agents get barraged with hundreds, if not thousands of submissions. You do not want them to read your book and doubt your ability as a writer.
More importantly, you are writing a book directly to your target audience. This is one of the few opportunities to speak openly to them.
Don't allow them to form a negative opinion of you because you rushed the writing process.
To avoid this, meticulously edit your story. Ask as many people as you can to read your draft, preferably people willing to share their honest opinion.
Until you think it's near perfect, continue editing. And when it is perfect, edit some more.

3. Thoroughly Research Who to Contact
Do you need an agent?
You may want to publish your book without an agent because the process of finding one is time-consuming.
You need an agent if you want to publish your book with one of the "Big Five" publishers.
The Big Five (Penguin Random House, HarperCollins, Simon & Schuster, Hachette, and Macmillan) do not have time to read every manuscript handed to them. They will not read your manuscript without an agent representing you.
But you don't have to go with one of the Big Five. You can make money regardless of who publishes your book. My book made over seven figures in earnings with less than 10,000 copies sold.
How to Find a Literary Agent
Literary agents want you to find a publisher. Most don't get paid until your book sells, so success is mutually beneficial.
If you're thinking of contacting every agent you can find, think again. That's a sure-fire way to ensure you never find good representation.
When researching agents, use a spreadsheet to keep track of potential agents. Look for:
History of representing similar genres. That means they have a success record in your niche.
Reputation. Newer agents might have more time to spend on you but may not have the experience as more seasoned agents.
Free resources for finding literary agents:
Google (Type "[genre] + literary agent")
LinkedIn
List of Book Publishers for First-Time Authors
Not aiming for the Big 5? You do not need an agent if you want to go with smaller publishing companies:
4. Draft and Send Your Pitch
Once you have your list of agents, you have to convince them to take you on as a client. You can do this by sending a query letter or proposal.
Your query letter is the first thing an agent knows about you. It would be a waste of time to spend hours writing your book only to rush through the letters.
This pitch is one of the most important things you'll write — it doesn't matter how good your book is if your query letter doesn't entice the agent.
Below are some tips to keep in mind:
Follow submission rules carefully. If you leave things out or include too much, you're giving the agents a reason to weed you out.
Organize your submissions. Create a spreadsheet to keep track of your pitches, or they will start to jumble together.
Do not forget to follow up if you have not heard back based on the timelines. Keep in mind that sometimes not getting an answer means no.
Expect rejection and ghosting. It may happen dozens or hundreds of times before you hear anything. Don't let it deter you.
What Goes Into a Good Query Letter?
Start with a hook. You have a few sentences to capture your reader's attention and convince them to keep reading.
Name, word count, and genre. Allow the agent the opportunity to quickly parse through this information to find any glaring red flags.
Comparison titles less than three years old. This shows the relevance and an understanding of similar books to yours.
Clarity. If your plot is confusing, agents won't bother reading.
Why this agent. No one wants to read something clearly copied and pasted. Specify why you sought this agent out.
Social media stats. Traditional publishers choose writers who already have a following. If you have a decent number of social media followers or an extensive email list, then this will help you stand out.
Once interested, agents will ask you to send more of your writing, such as your entire manuscript or the first few chapters.
5. Screen Your Potential Agent
What do you do if an agent loves your book and wants to work with you?
Whatever you do, do not automatically accept the offer. You want to make sure it is a good fit first.
This is now your opportunity to interview them. Don't be afraid to ask them questions. You can ask about their experience, their working process with clients, and any revisions they foresee adding to your manuscript.
Remember, you don't need an agent to publish a book. That gives you the freedom to be picky. You don't want to work with an agent who misses your book's point or doesn't care.

6. Wait for Your Agent to Find a Publisher
Now comes the easiest and most challenging part: waiting.
Assuming you found a good agent, give them the space to pitch your manuscript to publishers.
This process can take a long time.
You might get lucky and be one of the few that gets a response in a few days. However, expect that this process can take months, even years.
Luckily, you do not have to sit twiddling your thumbs.
If your agent gave you some edits, add them in to polish up your manuscript even more.
You can also continue sending query letters to other potential agents. Finding one agent doesn't mean you can't keep searching for others. Agents expect that you don't have just one.

7. Carefully Review Any Contract Presented to You
Once your agent finds a publisher that wants to move forward, it's time to figure out the terms.
Many new writers will blindly agree to whatever gets put before them, sometimes from excitement but primarily out of fear of losing out on a deal.
You're not like that, though.
You do not have to accept the first contract shown to you. You can negotiate and ask questions to ensure you understand what you're signing.
Keep the following in mind when discussing a contract:
Understand That Most Traditional Publishers Will Own Your Content
It is unrealistic to think that you will get to keep full rights to your work. Publishing companies expect you to know this already.
By going with a traditional publisher, you agree that most of the ownership belongs to them. This means you might not have a say in pricing, the book cover, or royalties.
You can negotiate the ownership percentage slightly but expect they will take a more significant cut than you.
Determine if the Advance Is Reasonable
The advance is the amount of money the publisher pays you upfront. If you are a new, unknown writer, this advance can be just a few thousand.
If you have an email list or social media following, you can potentially use this to get a more considerable advance.
This initial bonus is one of the few benefits of going with a traditional publisher so ensure that it is an amount you are comfortable with.
Review the Amount of Royalties You May Receive
You get royalties only after the book has sold enough copies to equal the advance you received.
Don't expect to receive 100% of royalties. On average, your royalties are 15-30% of the cost of the book.
Be Prepared for Additional Content Edits and Revisions
Did you think getting a publisher means your book is ready to hit the shelves?
Not at all.
Now that they want to work with you, their in-house editor probably will have even more edits.
You'll have an opportunity to discuss this, so make sure the edits are agreeable to you. You can express concern if their revisions change the book to something unrecognizable.
Acknowledge That Publishing Houses Have Other Options
You want to stand up for yourself, but you don't want to be a diva. Publishers have the right to choose other writers if they feel you are too difficult of a writer to work with.

8. Work With an Editor and See Your Book Come to Life
Ready for more editing?
It is frustrating, especially since your submitted manuscript could already be your 4th, 5th, or 12th draft.
But that's the benefit of having a publisher: you have multiple people combing through your book to make it the best version it can be.
A book is only as good as its editing process. Even after several read-throughs, there could still be a missed spelling error or a wordy sentence to fix.
Around the same time, the publisher's graphic designer will start assisting with book cover creation.

9. It's Not Over Yet: Time to Market Your Book
Finally!
You see your book on full display at your local bookstore.
But wait… no one is even giving it a second glance. Why isn't your book selling like hotcakes?
Sadly, many new writers are misinformed about who does the marketing.
In general, traditional publishers won't market your book for you. That's why they prefer writers who already have a platform.
Free Ways to Market Your Book
Social media. Like it or hate it, social media is a fantastic asset to advertise yourself. Use your preferred platform to reach others and build a relationship with your audience.
Give away free copies. This seems counterintuitive, but it is all about getting your name out there (especially if you don't have a following). Identify influencers and thought-leaders who could benefit from reading your book and are willing to shout you out.
Book signings. Go to local bookstores or schools for book visits and presentations. Bookstores are happy to help out local authors within the community.
Do interviews. Find relevant podcasters, bloggers, and journalists who may be interested in interviewing. Remember, getting as many eyes as possible on your work is often a numbers game.
How to Get Your Book Published in Less Than 6 Months Without Writing Anything
Maybe the steps listed above seem too time-consuming.
Not only do you have to write and edit your entire book, but you also have to write and send queries, market yourself, and continue to make edits upon edits.
The whole process for just one book can take years and thousands of hours.
Luckily, you have another option.
As mentioned earlier, hybrid publishing is an alternative if you do not have time to wait around.
Below are the main benefits of hybrid publishing. However, please remember that not all hybrid publishers work the same and offer the same benefits.
Publishing a Book Takes Months, Not Years
Time is money.
Instead of navigating through a process that takes years without any guarantees, hybrid publishing saves you this time because:
You do not have to wait for agents and publishers to pick you
Hybrid publishers help you write your book in a few months
You Don't Need to Draft a Complete Manuscript Beforehand
Writing your entire manuscript is time-consuming, and you must complete this before even considering getting accepted by a publisher.
You can skip this step with hybrid companies, saving you months or even years of time. At Best Seller Publishing, we use an enhanced ghostwriting process to write your book for you. That means that all you have to do is draft an outline or record the book's main points that you want to capture.
Our ghostwriter will do all the heavy lifting to translate your points into a book written in your voice.
They Handle All the Marketing
Traditional publishers do not help you much in marketing your book. With self-publishing, you get even less help since you have no institution to fall back on.
Hybrid publishers can help market your book. They have PR teams who submit press releases during your launch, pay for and run advertisements, and promote on social media accounts.
All that is especially helpful if you do not have a platform yourself.
Ownership Rights Still Belong to You
Traditional publishers acquire most of the book's rights — up to 80%. And they often keep this ownership forever.
Most hybrid publishing companies act more like a contractor than an owner. They help you develop, write, and market your book. But once that part of the contract is complete, you keep ownership of the content and royalties.
You Control Creative Decision-Making
Many people go with self-publishing due to wanting to maintain control. Traditional publishers have the right to make changes that you may disagree with. They can decide the book cover, title, or even change up the content.
Hybrid publishing offers the freedom of self-publishing with the resources of a publishing company.
You guide the graphic designer on the book cover and provide the copywriter with your vision of the book back blurb.
You Keep More Money
Hybrid publishing has a higher initial cost than either self or traditional publishing. This makes it a hard pill to swallow initially.
But in the long run, this can save you money because you are not signing away ownership and royalties.
Any profits you make, you get to keep.
All of it.
Now You Know How to Get a Book Published. Which Publishing Process Is Best?
There are many ways to get your book in people's hands.
With traditional publishing, you have the backing of a large publisher who helps get your name out there. This is the cheapest but the most time-consuming method.
With self-publishing, you rely on yourself for everything, but you get to keep all the profits.
Finally, hybrid publishing is the most expensive, but you get more resources and keep complete ownership.
But out of those options, which one is the best?
The quickest and easiest path to writing your book is with hybrid publishing.
At Best Seller Publishing, we will write your book from start to finish in less than five months.
Plus, you don't have to type a single word. We use "enhanced ghostwriting" to ensure that the book is distinctly you.
Regardless of which option you choose, none of it matters if you're not willing to start.
Instead of just dreaming about your idea, it is time to make it a reality.
You'll be a published author seeing your book fly off the shelves in no time.