I'm guessing you want to know how to sell more books.
Maybe you haven't started the process yet and want to do it right. Or you've managed to sell a couple of books, but you're frustrated with the low number of sales you've made so far.
Today, I'm sharing exactly what you need to do to increase book sales.
I implemented these book marketing strategies to get my book Publish. Promote. Profit. on the Bestseller list.
Here's how you can do the same.
How to Sell More Books: 15 Proven Strategies
1. Streamline Your Marketing Methods
I always ask the same first question to my clients:
"What do you want to focus on?"
You have to ensure that you're laser-focused on the book marketing methods that actually lead to sales.
Because if you're not,  you're most likely losing out on even more profitable revenue streams.
Or, you'll try to do everything, spread yourself too thin, and burn yourself out.
Like in everything, there's an 80/20 (80% of the results come from 20% of the effort) principle with book marketing.
And I wrote an entire post on some of the most effective strategies I know that you can read here.
2. Put Yourself Out There
Once your book is published, it's not going to sell itself. You need to tell the world about your book.
One approach is to get on media outlets — TV shows, radio, podcasts, news articles, etc. Basically, any opportunity for you to get an interview.
Getting PR and media coverage is a massive component of your book launch. This works extremely well for two reasons:
1. You are getting eyes on you.
When I was on a KTLA for my book, I didn't think it had a great mass appeal. However, I sold 50-60 copies just by mentioning my book in a 3-5 minute look segment.
Guess what if it would be I were to do media a few times a week? I may be able to sell 250-300 copies of my book from modest media appearances.
2. You prove you are an authority figure. 
These publications with millions of viewers or readers chose to interview you. That proves to their audience that you are someone who knows what you're talking about.
3. Find Speaking Events
It's important to remember that you're not going to host your first speaking engagement in front of a packed stadium. But that doesn't mean you won't work up to it.
When you first start, you'll probably have to start small with local events. Local events tend to focus on networking, so don't expect that you'll be talking to your book's target audience.
The next "step up" from local events is focused events. These are speaking sessions where you talk directly to an audience in your niche.
Focused events can range from just a few dozen attendees to hundreds of people. But don't choose your event based on size — I would rather speak to a group of 100 attentive listeners than to 1,000 people falling asleep.
You have a few options for selling more books at speaking events:
While you're in front of them as a speaker, mention that your book is for sale. Your audience can pick a copy up at the end.
Mention that you are giving away your book for free. They just need to provide their contact information.
Both options work, but I would personally go with the second option.
I've mentioned that I am a proponent of giving away your book for free because I'd rather follow up later to offer something more valuable, like my company's services.
That's more important than losing out on a $20 book. I'm not getting an immediate paycheck, but I expect a large ROI from selling our services and programs to those that get the book since they're completely aligned.
Of course, this only applies if you have another service to offer. If you don't, then speaking engagements are a great way to sell more books. The important thing is to be consistent. Several of my clients make six figures from book sales annually just from speaking events.
4. Be Seen in Real Life
This is critical.
Even if speaking isn't for you, there are several other ways to be seen in real life like:
Book interviews at your local bookstore
Author fairs
Local art festivals
Conventions
It sounds old school to do real-life things in today's digital world. Why limit yourself to people at an event instead of reaching millions on the internet?
The reality is that when you are advertising online, a surprisingly small number of those people are ready and willing to buy your book. But at live functions, you're meeting people who genuinely are interested in you. They may be smaller in number than on the internet, but they want to know what you're about, which leads to actual buyers.
5. Let Others Advertise You
Using other peoples' platforms is the easiest way to increase book sales.
Some examples:
Focus on appearing in as many media outlets as possible (podcasts, blogs, social media, radio, and television)
Share user-generated content, such as if someone took a photo of your signed book, or shared a video of them talking to you at a live event, etc.
Get on blogs and podcasts that your target audience follow
If you hit the right market in your niche, you may sell hundreds of copies of your book from one feature.
6. Run Ads
Social media advertising is hard to master, but it's on this list because it works.
There are dozens of tips out there, but I've included my favorites for what to include in a successful ad campaign:
Short call-to-action (CTA). You have mere seconds to get people to look at your ad. Give them clear guidance by having one CTA per ad, such as a link to your book page or an opt-in form for your email list.
Enticing image. Include a clear visual of your book cover. Make it obvious what your book is about so that someone who clicks your ad is more willing to finish the process of buying it.
A/B test. Something as small as font color could make a surprising difference. You don't need to experiment with a large amount of money, but seeing what works in real-time is the best guide to an effective ad.
Specify your target. Assuming you already identified your target audience, you know the type of reader your book appeals to. Target these in your ad and don't waste money on people not in your niche.
The trick to not wasting your money is to make sure you are watching for ads that outperform. Look for low cost-per-click (CPC) or ads that are generating you a high ROI.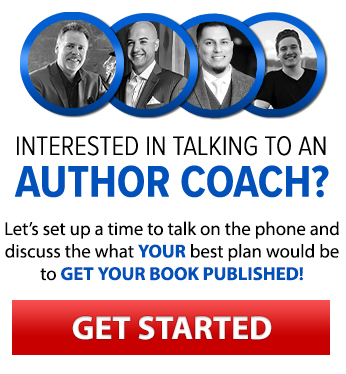 7. Give Books Away
This strategy seems counter-intuitive: isn't the point to sell books, not give them away?
Generally speaking, whether this works for you depends on what you want to accomplish from your book.
For me, my end goal is to get more clients. Therefore, I don't focus solely on selling my book. I send people through my book funnel because I prefer to give my book away to potential ideal clients to introduce them to what I do.
Giving away books could still be helpful even if your goal is to make money from them. Do a giveaway on Goodreads or social media to gain awareness of your book. Someone who doesn't win may still buy your book if interested.
8. Hire Some Help
Thousands upon thousands of books get published every single day. With all that noise, you need to get yours to stand out.
One of the best ways to do this is actually with a publicist or PR agency.
Publicists get you noticed by getting you on TV or in articles, booking interviews, and using their connections to get more media coverage for your book.
Publicists can cost several thousand every month, so it's quite an investment. But it will pay off if you choose wisely.
9. Don't Stop Talking About Your Book
I don't mean in a way that annoys family, friends, or your social media following.
Here is an example:
You may have heard of Jordan Peterson's book, 12 Rules for Life. I watched several videos of his, and I saw him on different media doing all kinds of PR to sell his book.
I thought this was interesting because he was already a well-known figure before that book — yet still appears on top media outlets around the world five, six, or seven times a week.
This helped me figure out how to sell more books:
You won't get the results you want unless you put in the effort and talk about your book. 
Someone like Jordan Peterson, as famous as he is, had to appear on media day after day in different cities and countries to get his book sold. You will also have to work as diligently, if not more.
Even figures like Jordan have to focus on selling their book.
10. Create an Audiobook
An audiobook is one of the best investments you can make. According to a Statista survey, around 46% of readers reported listening to an audiobook at least once.
Diversifying how someone can consume your book makes it more likely that someone will buy it.
11. Fine-Tune Your Website
Make it easy for readers to find you.
Your website doesn't have to be super complicated. It just gives your books a "home" and allows readers to learn more about you. Plus, you can add an email opt-in for subscribers to get updates on future books, growing your all-important email list.
You also may want readers to buy directly from your website instead of through Amazon.
However, proceed with caution because Amazon makes it easy for buyers purchase (with a single click).
Linking to Amazon helps you avoid the potential barrier of customers having to enter their credit card and address.
12. Give Away Value
Everyone loves free things.
As I mentioned before, your book is the best thing to give away. But if that isn't something you want to give away, then you can provide something of value in other ways.
You can instead offer a free template download or a free training video. Use this opportunity to capture their email addresses and build a mailing list.
The important thing is that you want to provide something valuable to the reader to gain their trust and build your authority.
What is a resource that your audience would love?
13. Always Think About Your Mailing List
It doesn't matter how often you hear this advice; it's something that I see too many people disregarding in exchange for current social media trends.
Your subscribers are generous enough to allow you space in their cluttered inbox for what you have to say. They are the ones most likely to buy from you.
I recommend mailing your list a few times per month with relevant, helpful content. You can (and should) email them about any new books or relevant services, but keep sales pitches to a minimum
14. Write More Books
If you wrote one widely successful book, couldn't it happen again?
Imagine one of your readers liking your book and writing style. They may seek out your other books. They'll even tell their friends and coworkers about you.
On the other hand, what if your book was a bust? Well, if you wrote a book that no one bought, why not try again?
The more you write, the better your writing will become. You just need to swallow your pride and get better with practice — and more books.
Regardless, another book will help establish yourself as an author.
15. Make Sure Your Book Is Top-Notch
Even if you do everything on this list, there could still be one harsh reason why you're not selling any books:
It just isn't good.
Unfortunately, good books are a dime a dozen. Incredible, excellent, life-changing books are much, much rarer.
Getting a book published right the first time takes genuine effort on your part to make sure your book is the best version it can be.
How to Sell More Books on Amazon
Here are tips to help you sell more books on specifically on Amazon and avoid common beginner mistakes.
1. Plan Your Keywords
Amazon is a search engine. That means you must be crystal clear on what readers want from your book.
When you search for an item on Amazon, the range of what you search for can be as generic as "toilet paper" or "lotion" or as specific as "birthday gift for mother-in-law" or "cozy mystery books for adults."
Brainstorm your book's keywords by researching both generic and specific searches.
You don't even need a unique tool for this. Simply go to Amazon and type searches that may relate to your target audience. Review other books' titles, subtitles, and descriptions when you search your genre. Take notes on specific keywords or phrases that you see repeatedly.
This may take a while, but it's worth the time to focus on your book's description, or your reader will never find you.
2. Create a Kindle Book
To target e-book readers, make a Kindle-friendly version of your book because 72% of people who read ebooks read them on the Amazon Kindle.
With that stat, it's a no-brainer to make a Kindle version. Amazon also provides Kindle Create to help make this process easy.
3. Enroll in Kindle Unlimited (Maybe)
Kindle Unlimited is a perk you get if you join Kindle Direct Publishing (KDP) Select. Enrolling in KDP Select allows you to list your book on Kindle Unlimited to target readers who paid for the Kindle Unlimited subscription.
You get paid by the number of pages read through Kindle Unlimited instead of book sales.
Now, should you enroll in KDP Select to access Kindle Unlimited?
First, it's important to note that you do not need to join KDP Select to list your book on Amazon. KDP Select is a specific program that offers you higher royalties than usual.
The downside with KDP Select is that you can only distribute your eBook exclusively on Amazon.
In my opinion, whether you should join Kindle Unlimited or not depends on your genre. If you sell a non-fiction book, you should not participate because you are vastly limiting your reach.
If you are selling a fiction book, you may want to join Kindle Unlimited if your genre is fantasy, science fiction, or fantasy since those are readers who tend to read a ton of similar books.\
4. Don't Forget Your Audiobook
Assuming you made an audiobook, you can list it on Audible. Since the audiobook niche is smaller, they will actually provide some free advertising for newly listed audiobooks.
Similar to listing your books on Amazon, you'll need to do keyword research to reach your target audience.
Now You Know How to Sell More Books… But Your Work Doesn't End Here
You don't need to use all these book marketing strategies, but you'll see your book sales soar by incorporating a few.
But what if you want even more?
If you want not just an increase in book sales, but a proven strategy for getting high-quality clients, then my free book will help you do just that.