Is your book your business's best marketing asset?
If not, keep reading…because it has the potential to be.
Imagine what it'd be like to have piping hot leads flooding your inbox on autopilot practically begging you to work with them.
You don't really even need to sell them on your services because they already want them. And they want them badly.
That's the beauty of a great book with a rock-solid book sales funnel.
Most people think this is a pipedream, but I've seen it become reality–both for myself and countless clients.
My book Publish. Promote. Profit. is a prime example.
We've used it in a book funnel at Best Seller Publishing to generate millions in revenue.
And in this article, I'll show you the strategy we used to make this happen.
What Is a Book Funnel? A High-Level Overview
Book funnels are a marketing plan to guide your target audience through a buyer's journey (usually starting with your book and ending with a high dollar offer).
They're effective when done right because they can generate leads and nurture clients automatically.
Book funnels are similar to marketing funnels because they take potential clients through the following main stages of buyer awareness:
Unaware
Problem Aware
Solution Aware
Product Aware
Most Aware
The 5 Main Parts of a Book Funnel
1. Awareness
The first step of a book funnel requires raising a reader's awareness of who you are and what you can offer.
To put yourself on your target audience's radar, use your book for advertising yourself — it is a low-commitment way for someone to learn who you are.
After all, the end goal of book funnels isn't to get the reader to buy your book. That's actually just the beginning of your funnel.
The main goal in this stage is getting as many eyes as possible on your book.
2. Spark Readers' Interest
The second stage of the book sales funnel is all about building trust with your audience. You want them to interact with your content and start viewing you as an expert in your particular field.
You can achieve this through a book, free training course, or another form of "extra" content you offer in exchange for an email address (i.e. a lead magnet).
Regardless, the name of the game here is being generous with your content.
My favorite way to do this is by leveraging a book using the free plus shipping book funnel.
I will discuss this in much more detail later in this post, but this method helped one of our clients gain enough authority to secure a 5 figure book advance on the next book.
3. Offer an Enticing Upsell
At this point of the book sales funnel, your target audience trusts you and appreciates the value you're giving them.
Some will be interested in more comprehensive solutions for their problems, so take advantage of this opening to sell them your products.
At this stage, it usually works best to keep the upsell accessible by offering a low-dollar product..
4. Propose Your High Ticket Offer
Expect significantly fewer people at this stage of the funnel when compared to the first stage (which is why it's called a funnel).
Although smaller in number, the leads who reach this point in the funnel will be very receptive to the best offer you have. They've stuck with you thus far, been impressed, and want your help solving bigger problems.
This is a great place to offer coaching or comprehensive done for you (or done with you) service.
5. Continue Nurturing
Continue building a relationship with leads who haven't bought from you yet. At the same time, don't forget to keep up trust with your current clients — they may buy from you again in the future.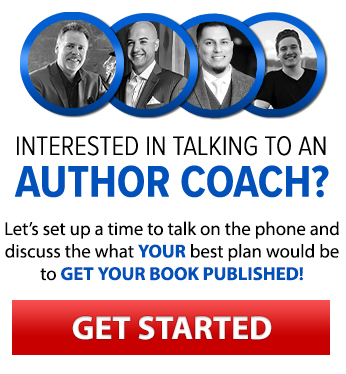 How to Create a Rock-Solid Book Sales Funnel in 7 Steps
1. Start With the End Goal
Successful book funnels first start with the end in mind.
Think about the ultimate purpose for leading prospects down your funnel. For many authors, the end goal is selling a high-end service.
And this is often the best way for authors to make money with their books.
But what if you don't have a high ticket offer to provide?
Try to come up with a done-with-you or done-for-you service.
Here's an example:
We created a product with pre-recorded videos. Something like this is worth around $300.
Instead of keeping it merely as a self-guided course, we offer various done-with-you and done-for-you programs that range from $8k – $45k.
Clients bought this because we turned our product into an 8-week program. We added group calls, live Q&A sessions, and one-on-one sessions to ensure our clients implemented what we were teaching faster.
This personal touch increases the value of the product. Your time is much more meaningful.
I generally don't recommend ending your funnel with a product because the margins tend to be too small for the book funnel to work (remember: the free plus shipping model means you're going to lose out on book revenue on the front end)
2. Write Your Book
We are using your book as a marketing strategy because it's the fastest way to prove your expertise in your field.
Getting a book published can sometimes take years but a good ghostwriter can write your book from start to finish in less than five months.
Regardless of how your book is written, I recommend following this loose 5-step format:
The process generally includes five steps for each chapter:
Story: Start each chapter with an attention-grabbing story. People read your book because of what they'll get from it but only continue reading if it's entertaining.
Open Loop: Stop your story right near the climax to trigger the reader's psychological desire to know the end of the story.
Content: Insert your content in the middle of the open loop and tie it into your story.
Close the Loop: End the chapter with a bang–concluding the story in the most memorable way possible.
Next Steps: Give the reader action steps for implementing what they've learned.
3. Setup "Free Plus Shipping"
This is one of my favorite book marketing strategies because of how effective it is in reaching a large number of readers.
You simply advertise that you're giving away your book for free. Your reader only has to pay for shipping.
The free plus shipping book funnel is enticing because it's an obvious decision: buy the book on Amazon for $24.95 or pay $7.95 for shipping.
Of course, you still must convince readers to pay for shipping. On our offer page for Publish, Promote. Profit., we include reviews, testimonials, and videos so readers know why they should invest in our book.
Now, you might be wondering why we have readers pay for shipping. Wouldn't we get more readers if shipping was free?
You don't want it 100% free because of the end goal: getting clients for your high-ticket offer. 
You want to reach readers willing to pull out a credit card to pay for your knowledge, even if it's something as small as shipping. You are not targeting someone who picks up your book simply because it is free.
4. Use Content Strategically
What determines whether or not you're actually a thought leader?
Your content.
It must be truly valuable, unique, and actionable to leave an impression on your target clients.
Here 3 of the best pieces of "strategic content" you can have:
Free training page. We use a 45-minute video training on book marketing.
One-time coaching call. Offer a free 15-minute strategy session.
Lead magnets. Custom templates, quizzes, calculators, and an audiobook are all enticing free resource options.
Each piece of content you make should lead readers to the next step in your book funnel.
For instance, our free training video includes an application to work with us in our coaching program. For you, your content may persuade readers to join your email list or schedule a one-on-one call with you.
5. Create a Small Offer
This is your upsell from the book funnel stages above.
At Best Seller Publishing, ee offered a six-video training course for $47 that readers could get instant access to once they received our free book.
Almost 20% of people purchased this course, which added $37,000 of revenue in just six months.
Sell informational products like an online course or a resources page. I recommend keeping the cost of the products somewhere between $40-$99.
6. Find Your Target Clients
Even if you get sales from your product, you ultimately want to find people interested in your high-ticket offer.
One effective method we use is calling everyone who bought our book. In this call, we'll ask for opinions on the book and if they'd like a one-on-one coaching call.
Although time-consuming, this adds a personal touch to each customer and increases your chances for conversion.
We've had people sign up for one of our $45k programs during these calls.
7. Continue Providing Value
Only a small percentage of leads make it to the end of your book funnel.
That's okay.
It may take your audience months of hearing from you consistently before they're ready to commit to your high ticket offer.
That's why it's critical to continue nurturing these leads with high-value content long after the fact. You want to stay at the forefront of their mind and continue building trust.
Two Great Book Funnel Examples
1. Publish. Promote. Profit.
My book Publish. Promote. Profit. uses the free plus shipping funnel mentioned in this article. Below is a screenshot of what you see in our landing page:
We provide free bonuses and extra content to entice the reader:
Then once someone purchases the book, the reader gets led to a page with our extra training video for free and an application to work with us.
2. Tony Robbin's LIFE FORCE
Tony Robbins also uses the free plus shipping funnel method to advertise his book LIFE FORCE.
Similar to my book, the LIFE FORCE landing page includes a free guide.
How Will You Use Book Funnels to Accelerate Sales?
Now you know how to create a book funnel. What's next?
If you don't know where to start, my book Promote. Profit. Publish. will teach you exactly how to begin.
Otherwise, use your book and the free plus shipping funnel to market yourself. You'll start selling your high-ticket offers like never before.